Carpet Cleaning San Antonio, TX
(210) 659-8986
(210) 705-2417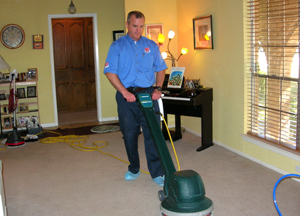 We offer a low-moisture cleaning process which doesn't soak your carpet or pad and dries in about one-hour.
We first do a thorough vacuuming of the carpeted surface to be cleaned, including vacuuming the edges of each room, and then spray a mist of our proprietary, water and citrus base solution onto the fibers of the carpet. The solution is environmentally safe, as well as being kid and pet friendly. It's enough moisture to allow us to clean the carpet fibers without soaking.
We use a machine that runs at about 185 rpms, which allows us to agitate the carpet fibers and do a gentle but thorough cleaning. We finish with a complete grooming of the carpet, leaving you with a clean, fresh carpet that will be dry in about one-hour.