Carpet Cleaning Houston, TX
(713) 828-5907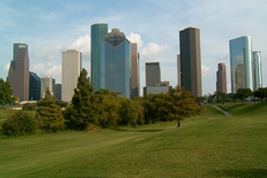 Carpet Cleaning by Heaven's Best Houston
Unlike some other carpet cleaners whose process may take 6 hours to dry, our low moisture carpet cleaning system is dry in one hour! This means that you and your family can begin using the freshly cleaned room immediately, because not only is our process dry in one hour, but the water and citrus based solutions are safe for the environment, children, and pets!
Our process begins with a walk through with you, to learn the areas of your greatest concern. Then we vacuum thoroughly all rooms to be cleaned, including the corners and edges. If there are cobwebs within sight we get those too!
We then generously spray our water and citrus based solution to let it begin its job of breaking down the dirt and stains that are lodged in your carpet fibers. We use a carpet buffer to agitate the fiber so we break down that dirt. Our specially designed pads absorb the moisture as well as the dirt, so we change them often throughout the cleaning to ensure your carpets are clean and dry in one hour.
We complete the cleaning by grooming your carpet, leaving it looking and smelling fresh and clean.
No Carpet? No problem! We also clean Upholstery, Hardwood, Tile and Grout!
As much as we love cleaning carpet we also love cleaning your home's upholstery, as well as your vehicles upholstery whether it travels by land, water, or the sky. We also clean hardwood floors and of course, tile and grout.