-
Posted: Aug 10, 2011
Check out this article that mentions Heaven's Best Carpet Cleaning franchising.
Orange County Registrar Article
Comments (0)
-
News
---
-
Posted: Jul 18, 2011
Many of us have spent many hours looking at all kinds of carpets. Between the color and the look of the carpet; to the type of fabric used to make the carpet. This is sometimes a long and hard process but once it is made and the carpet is installed, you often times have a feeling of relief that the task is complete.
After all that time and effort, most people wait a year before they get that brand new carpet cleaned. After spending, anywhere from $10 - $50 a square foot to purchase your carpet and have it installed, why do we wait so long to take care of it.
On the average, carpet should be cleaned by a professional carpet cleaner every six months to a year. If you have pets or heavy traffic areas, it may need to be cleaned more often. Proper cleaning can increase the life of your carpet and the cleanliness of the air in your home.
When it is time for your carpets to get cleaned, call on Heaven's Best Carpet Cleaning.
Comments (0)
-
Cleaning Tips
---
-
Posted: Jun 6, 2011
How many of us vacuum our carpets regularly? Hopefully all of you answered yes. Now, how many of us clean the Tile and Grout in our home regularly? The number who answered yes to this question might be a little less.
The easiest way to keep Tile and Grout clean is to wipe it down immediately after it's used. If there is a spill on your tile floor, sweep it up and wipe the spot with a clean cloth. If there is any food spilled on the counter, wipe it up as soon as you can. When you are done with the shower, be sure to squeegee the tile to keep the moisture and soap build up to a minimal. Tile and Grout are exposed to water and moisture as well as food and other substances that can cause buildup and create an ugly surface on your Tile and Grout.
In order to keep Tile and Grout clean and to help it last longer you should regularly wipe it down with fresh clean water and a clean towel while using a quality brand of Tile and Grout cleaner between visits from Heaven's Best. Periodically when your tile needs more than a light cleaning, Heaven's Best offers a complete and professional Tile and Grout cleaning process. This will keep your tile looking great and your investment in a wonderful looking floor will last for years to come.
Comments (1)
-
Cleaning Tips
---
-
Posted: May 6, 2011
It's that time of the year again. When the snow begins to melt and sun tries to shine. This is a time when families unite and come together for one very special event; Spring Cleaning.
This is usually a time when families go through old boxes and clean out places that haven't been attended to throughout the winter. After you've cleaned up and donated what items you don't want and put some items away for a garage sale later, you may notice that your carpet is looking a little dirty.
Complete your spring cleaning with a visit from your local Heaven's Best Carpet and Upholstery cleaner. We'll make your spring cleaning more complete with fresh carpet and renewed furniture. Your home will be clean and smell as fresh as spring.
Comments (0)
-
News
---
-
Posted: Apr 8, 2011
We found a great article written by the Better Business Bureau that shares some tips on selecting a carpet cleaning company. We would love you to choose Heaven's Best as your carpet cleaner but understand that you may not. We do feel, however, that it is important to make sure that you're choosing a reputable cleaning company and in this article there are points made that will help you in doing so.
Comments (0)
-
News | The Operator
---
-
Posted: Mar 7, 2011
See before and after pictures from one of our operators: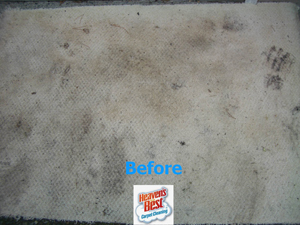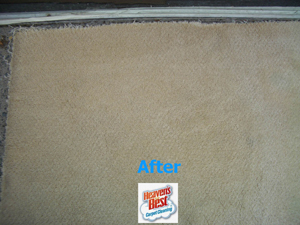 Comments (0)
-
News | The Operator
---
-
Posted: Jan 19, 2011
You've spent the time and money to pick out a new couch, loveseat, and maybe even a new recliner. You've read the owner's manuals, hopefully, but what can you do to keep them clean in between professional cleanings? Let the cleaning experts of Heaven's Best share some helpful tips about caring for upholstery.
If you want to keep your furniture completely spotless the only thing to do is lock it in a room and never use it. Since you really like the new couch and your husband is looking forward to watching TV in the reclining chair, that's not going to happen. Things happen and there will be spills on the sofa.
Keeping the upholstered furniture clean isn't very difficult. First, try to keep the seat and back clean. Keeping pets off the cushions as much as possible will reduce the amount of hair. One thing people forget to use are the headrest and armrest covers. If you have a habit of setting your feet on the couch, that's okay, just realize that it will cause it to get dirtier faster. Another habit is eating in front of the TV, but the crumbs that are spilled onto the furniture will get rubbed into the fibers.
Spills do happen and you can't stop living your life because you want the furniture to look perfect. If there are crumbs, pet hairs, or spills, clean them up as quickly as possible. Thoroughly vacuuming the upholstery, occasionally, is a good practice to get into. When a small spill happens on the fabric, you can use a Heaven's Best spotter to clean it up. If it's a more serious stain call Heaven's Best, the cleaning professionals.
Your furniture, just like carpet, gets dirty and needs to be cleaned by the cleaning technicians of Heaven's Best. We recommend having your upholstery cleaned yearly. If you own a business and have upholstery, we recommend at least twice a year. When we clean your furniture, we can also apply a fabric protector that will help repel stains and spills in the future.
Comments (2)
-
Cleaning Tips
---
-
Posted: Dec 14, 2010
We would like to wish each of you a wonderful Christmas season. We hope you will pause from your busy schedule and take in the magic of the season. The magic of this season is not the brightly wrapped packages, or colorful lights, but the feeling of love we each have in our heart for others. May the true spirit of Christmas be with each of us this year as we serve those whom we associate with in celebrating the birth of Jesus Christ.
Comments (0)
-
News
---
-
Posted: Nov 12, 2010
With the holidays coming up, especially Thanksgiving, we wanted to say thank you for being a customer of Heaven's Best. We know that without you Heaven's Best wouldn't be in business today.
As our customer, you've allowed us to come into your home to clean the floors and upholstery. Letting people into your home who you don't know can be very stressful, and this is something we don't take lightly. That's why we take the trust you've placed in us very seriously. Thank you for choosing Heaven's Best and giving us your trust and confidence.
Comments (0)
-
News
---
-
Posted: Oct 14, 2010
So you have a hardwood floor in the living room and kitchen, or maybe even in a bedroom. How do you keep it looking nice? As with maintaining a floor covered with carpet, there are certain steps you can take to care for your wood floors.
One thing that we'll discuss in the future, in another post, is how to determine the best way to clean your hardwood floors. This post will be more about the simple steps you can take each day or week in between regular cleanings. In addition to your weekly maintenance and regular cleanings, a floor made of wood needs to be cleaned by a professional periodically as well, which can bring back more of the beauty and shine of the hardwood.
So what can you do now to make your regular cleaning easier? Let's talk about it. The first thing you'll need to do is sweep often. Use a regular broom or a dry micro-fiber mop to sweep the floor. This makes the floor look nice, but also prevents scratching. The dirt and sand that inevitably accumulates on the floor acts like sandpaper and will scratch the finish/wood of the floor. So in order to prevent this, sweep often. If you have kids, especially sweep under their chairs. Another thing to help with less sand and dirt gathering on the floor is use floor mats at any entrance into your home. This will collect or trap some dirt and prevent it from damaging the wood floor. Shaking and vacuuming these mats often is important, too. You can, however, vacuum your wood floors, if you use a suction only vacuum.
As with any type of flooring, cleaning spills up quickly will help prevent damage. If water is allowed to sit on the hardwood over an extended period of time, it will cause water stains, warping, or buckling. In order to stop this, just make sure to clean up spills quickly, preferably with a white towel. Another good tip is to use floor mats near places where water is more prone to drip or spill onto the floor, such as in front of the sink and frig.
When choosing a mat to place on your wood floors, make sure not to use mats that have rubber backings as they may leave a stain on the floor where they were placed. The rubber backing slowly releases a chemical, which causes the floor to stain. After choosing a good mat, if it gets wet, dry the area and wait until the mat is completely dry before laying it back down.
Now that you know how to properly maintain a wood floor, it's just a matter of finding a little bit of time here and there to keep it clean.
Comments (0)
-
Cleaning Tips