Carpet Cleaning Salem, OR
Joe and Aleta Uta'atu - Call Today!
Salem:
(503) 463-1326
McMinnville:
(503) 472-1165
Woodburn:
(503) 981-1134
Newberg:
(503) 554-6634
About Heaven's Best Carpet Cleaning
Heaven's Best is an owner operated company and part of a national franchise. Our unique cleaning system allows your carpet to be dry in 1 hour. We use a specially formulated, water based cleaning solution that is safe for pets and children. It won't leave behind a sticky residue and we guarantee our work. If the spot comes back, so do we!
First, we use a powerful vacuum to remove any loose dirt. Next, we apply our specially patented cleaning solution that will loosen trapped dirt and remove stains. Then we go over the carpet with our powerful floor cleaning machine. We have special buffing pads that scrub the carpet. You will be able to see the debris collecting on those pads. We change the pads as needed throughout the cleaning. Last, we groom the carpet to make it look new again and to lift up the carpet fibers to help it dry even faster. You can trust Heaven's Best to make your carpets look and feel like heaven again!
After cleaning your carpet, we can apply a fabric protector, which is similar to putting on a shield. It will protect your carpet against stains by preventing liquid or dirt from penetrating the carpet fibers.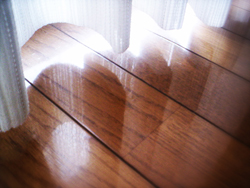 Other Cleaning Services
Did you know we offer services other than carpet cleaning? We also polish and clean all types of hardwood floors. We clean upholstery, RVs, and cars, too. We also clean up pet stains. Spill some bleach? Not to worry! We are specially trained in spot dyeing and carpet patching. We also sell Heaven's Best spotter bottles, Pet Enzyme Treatment spotter bottles, and Multi-surface maintainer spotter bottles.
We Know You're Busy
We know you're busy, so when scheduling a job with us you won't be given a time frame like other companies who leave you waiting all day. We'll schedule an exact time with you and show up at that time.
Heaven's Best is the perfect choice for your home or office. Our fast dry time allows you to get back to your day faster. You don't have time to wait all day for your carpets to dry. You deserve the best, Heaven's Best!